Sometimes, you find yourself drinking hot tea with lime at midnight and watching the sun for hours over the sea, resting on a steep summit, surrounded by snowy rocks and vicious cold wind. That day, you know you are in Norway.
This summer, after hiking from Sweden to Norway into the wild Sarek, I discovered the Norwegian mountains and fjords. Also very good cakes! I crossed the Norwegian border in the mountains under the rain, and spent my first night in a small mountain hut, called Ny-Sulitjelma. From there, I took a bus to Fauske then Bodø (if you don't have Norwegian kroner when you arrive, every bus driver accepts credit cards! They also make student discount, almost half price, sometimes asking for an ID, sometimes not) and quickly reached my first destination by ferry, the Lofoten islands: a spectacular collection of islands above Arctic Circle.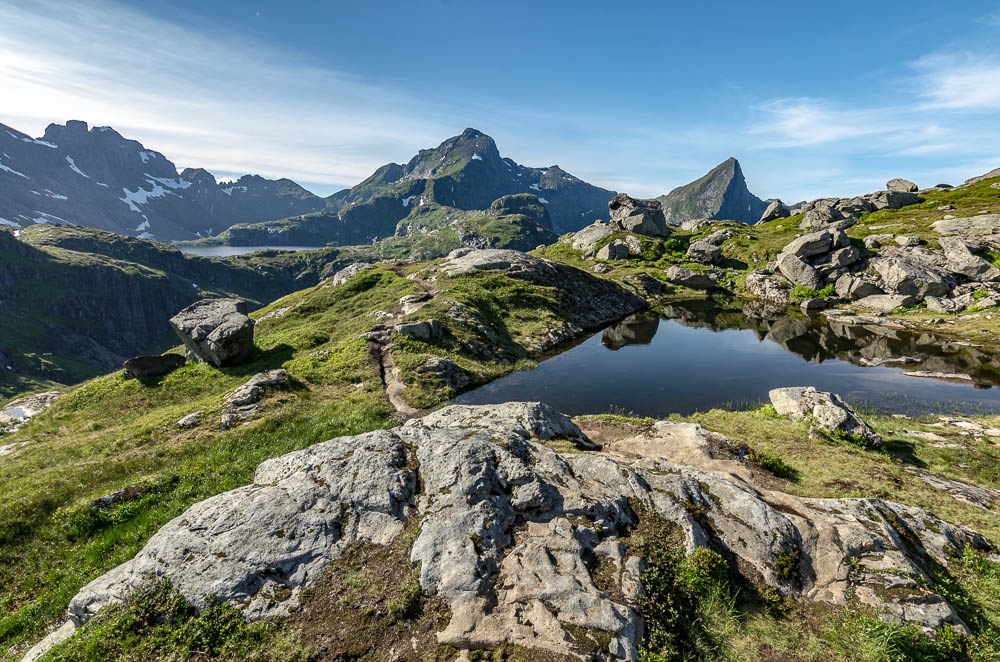 Reaching the summit of Hermannsdaltiden
I spent the first days near Moskones and Å (yep, "Å"). I hiked up to the Munkebu hut and reached the summit of Hermannsdalstinden, the highest mountain of the western Lofoten. The weather was perfect the first day, sunny and warm enough to wear only one layer.
I left my tent by a small lake (hill 448) in the afternoon, next to a small cabin (the cabin had a curious hidden door to drop a boat directly into the water).
At around 8pm, I started the final part of the hike to the summit. The last hundred meters are steep, and ropes help you in the muddy sections. On my way to the summit, I started hearing voices in the wind. I surprised three people waiting on the summit, and quickly got welcomed by a cup of hot tea. Out of water, they were refilling their cups by boiling snow.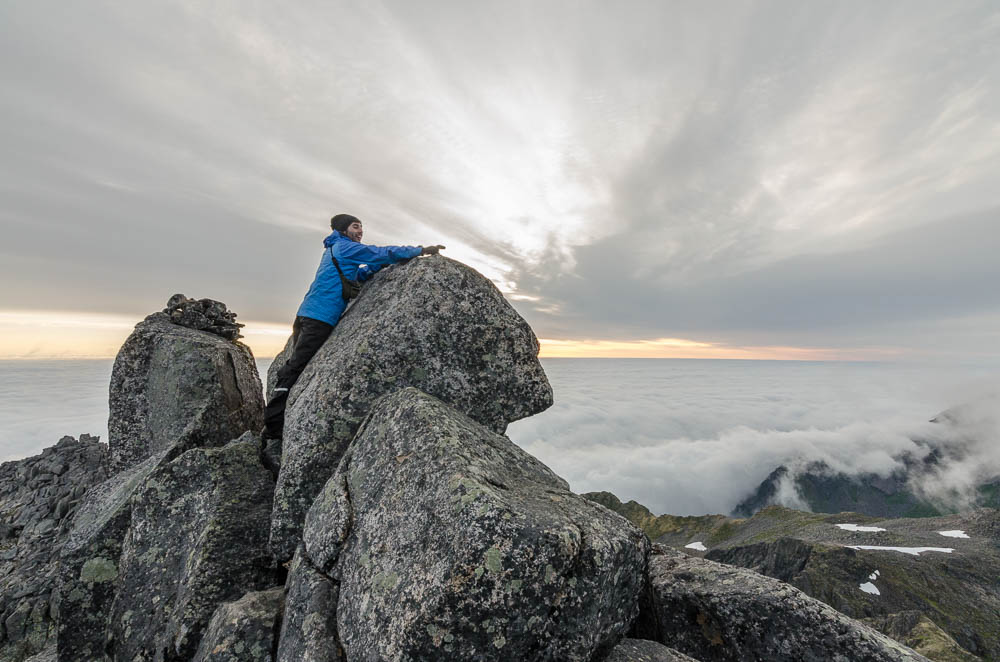 We stayed there until midnight, watching the sun suddenly appear from the clouds, rolling on top of each others. When they came closer and closer, it was too late. The fog was now everywhere and it took us two hours to go down, using GPS to check our way. What a beautiful adventure!
Rain was supposed to start the next day at 6am. And it did, all day, an heavy shower with fog and wind without many interruptions. I quickly went back to the Munkebu hut and warmed up with others fellow hikers. A strong wood fire, card games, and the day was almost over. In the afternoon, we jumped a few seconds in the cold lake near the hut! Brrr.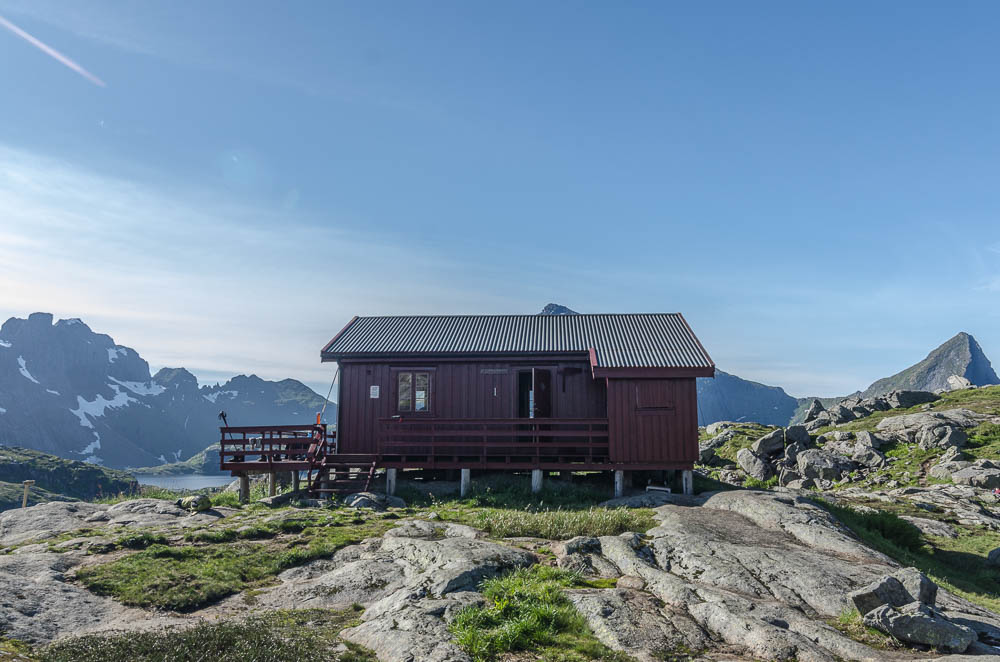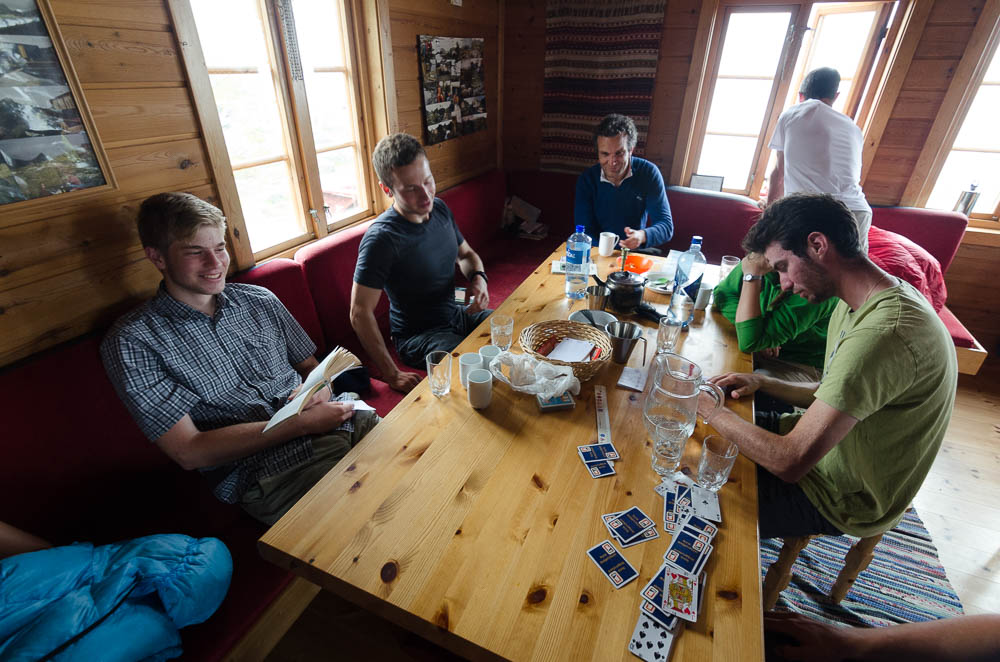 Interlude: art, money, and food
If you like art galleries, you should stop in Å to discover the crazy artist-run place pictured thereafter. The odd installations and the workshop upstairs are mesmerizing. I spent at least one hour talking with this wacky artist, who gathers small plastic, wood, or metal parts we usually trash, and carefully stores them everywhere in his workshop.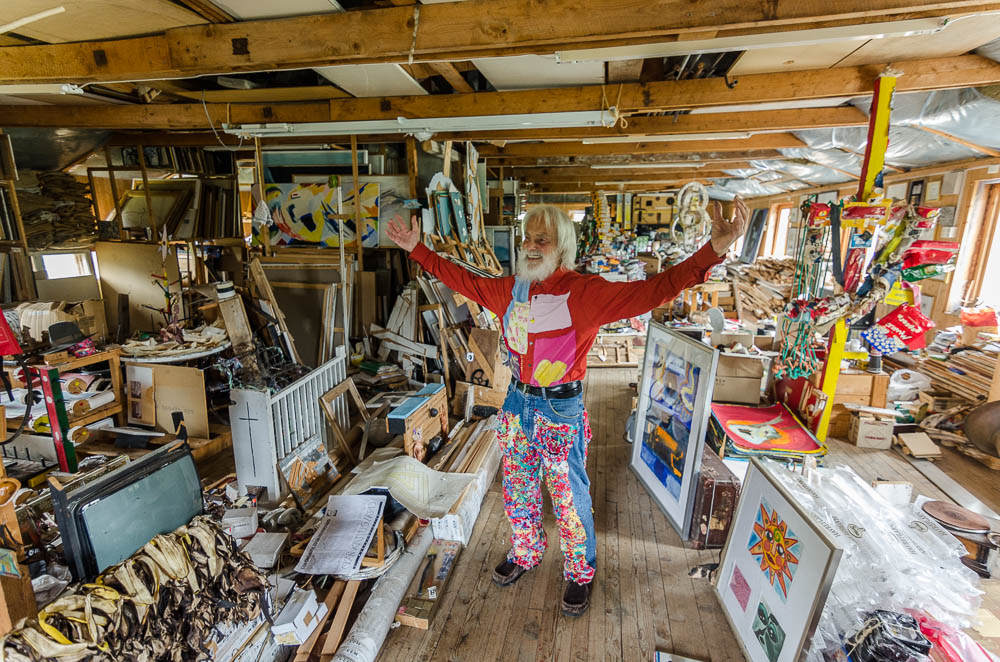 Norway is known to be expensive. A cheap meal in Bodø costed me 18 € at a cafeteria. However, you can still enjoy Norway without paying too much: simply avoid restaurants and pubs. Cody from 68North wrote a great guide called "Lofoten on a budget". His whole website is also a wonderful resource for planning a trip around the Lofoten islands. If you go to supermarkets such as Rema 1000 and travel with a tent, life should not cost you more than in western Europe. Norway has one of the most liberal public access and camping laws: the Allemannsretten ('All Man's Right', sometimes called 'Right to Access') allows anyone to walk across uncultivated lands and pitch their tent, no closer than 150 meters from an inhabited house or cabin.
If you don't want to spend all your time sleeping outside, you should visit the magical hostel of Stamsund. The owner is quite grumpy but it's part of the charm. You should however be careful, once you stay there one night, leaving this place is hard. :)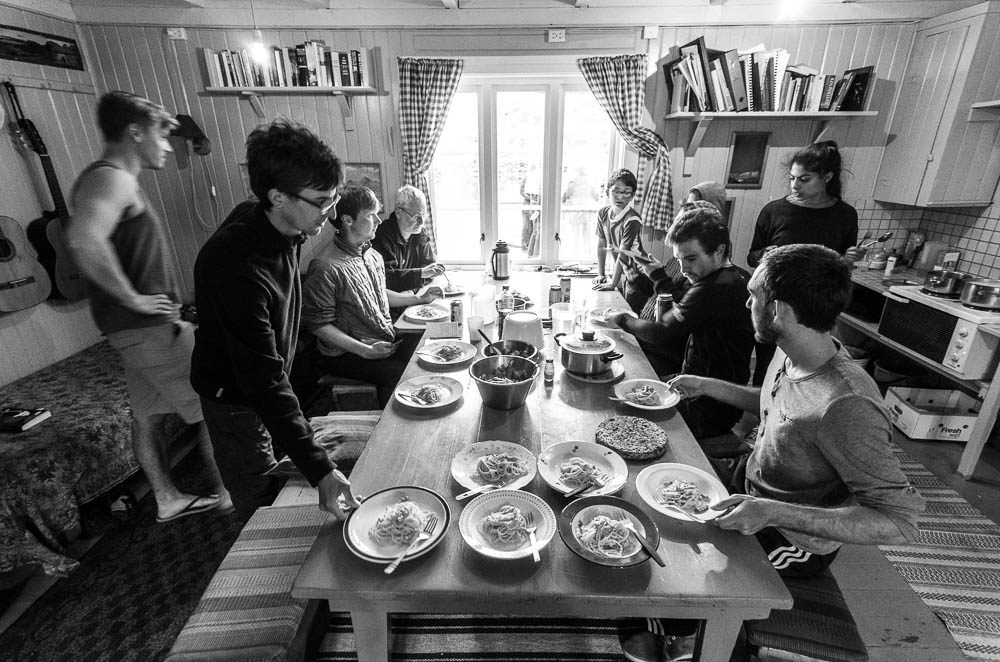 On the road, from Å to Ramberg
The western Lofoten hosts many hidden gems, summits and beaches. However, some areas, such as Reinebringen, a 448m summit with a wonderful view on Reine, have been heavily damaged by tourists. Parts of the trail are five meters large, with mud and footsteps everywhere.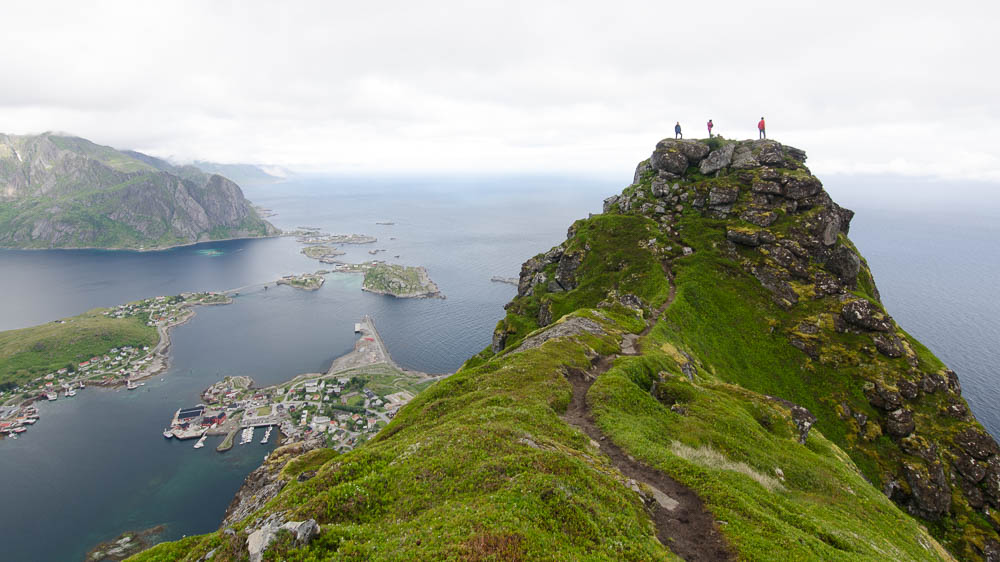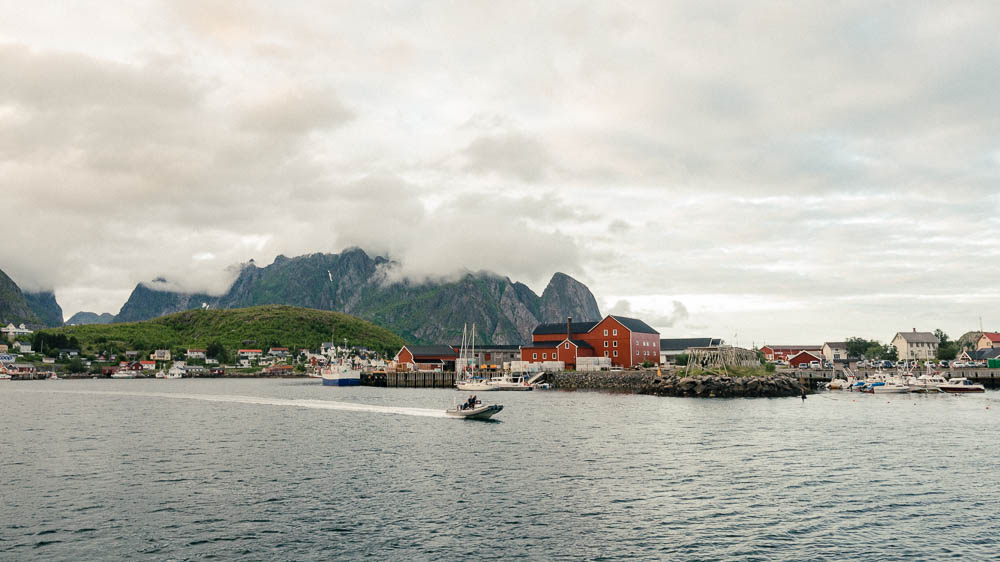 At 9:30pm, I took a small ferry from Reine to Horseid beach. The boat stops to let people reach Bunes beach, and continue to Kierkefjord, the last stop. Around 11pm, I arrived on a beautiful beach, alas not empty, with maybe ten tents scattered on the grass. Walking around this beach at midnight with steep mountains around you is still a fantastic experience.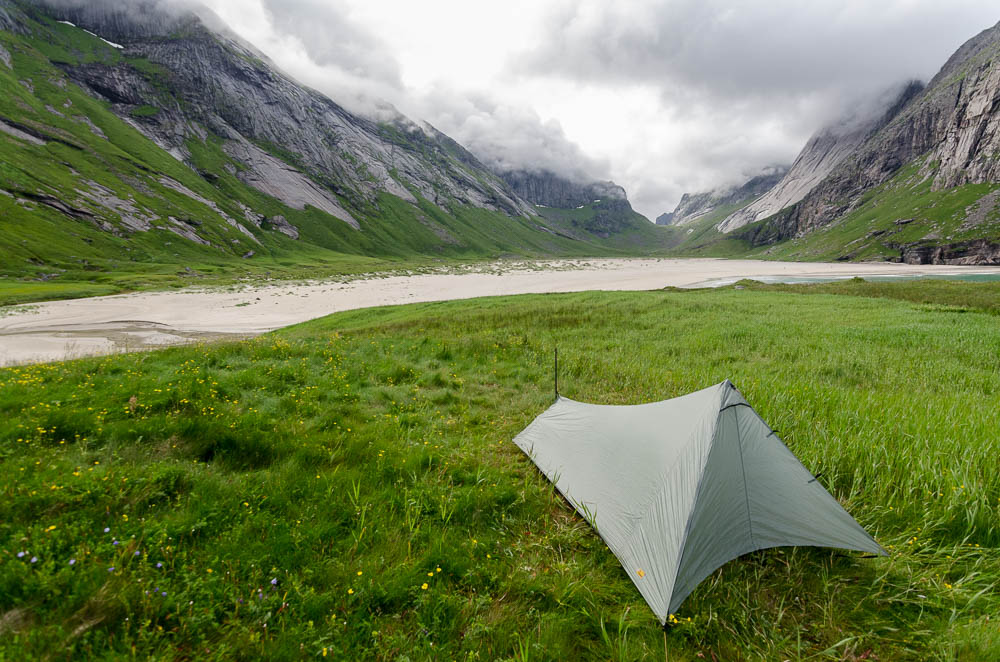 The next day, I hiked north, and reunited with civilisation, taking the form of a luxuous Mercedes car with leather seats. After hitchking to Ramberg, I finally met the three guys from the top of Hermannsdalstinden. And a weird festival. :)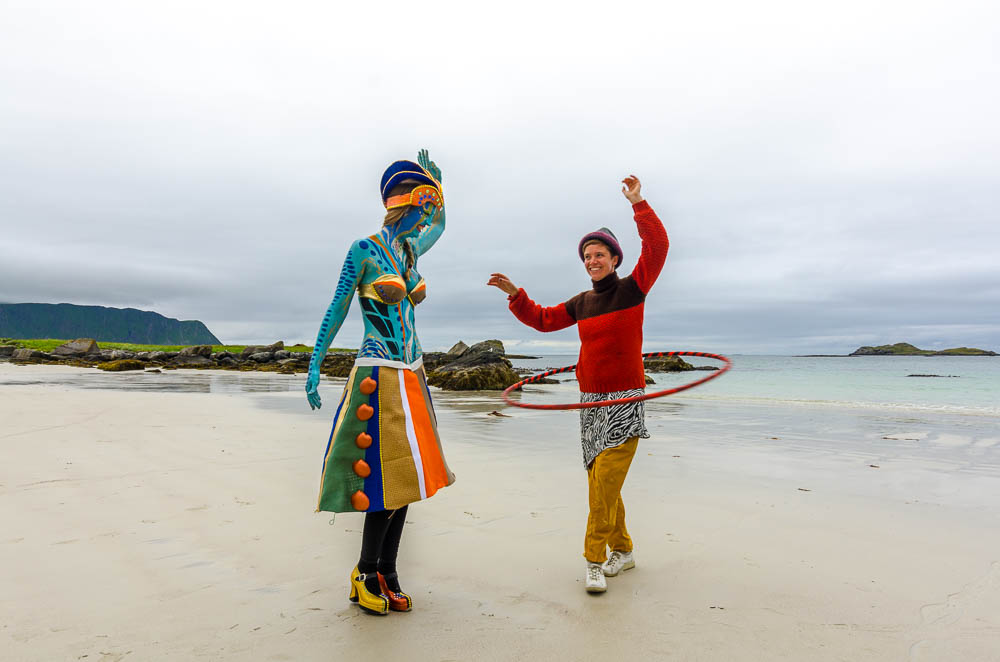 Next!
I'll soon add more from the Lofoten islands (around Stamsund), up to Tromsø, and wild adventures near Bergen. Stay tuned!